New York is rife with bars of all kinds — walk a few blocks and you'll run into a grungy dive, a pricey cocktail spot, or a crowded neighborhood favorite. Having so many different options means picking one can be a daunting task, which is why we've made things easy for you by rounding up the 50 bars you absolutely need to drink in before you die (or leave New York, whichever comes first).
CHINATOWN
There are dive bars and then there is Charles Hanson's 169 Soul Jazz Oyster Bar (as it is officially called). Between the cheap drinks, the vaguely New Orleanian menu, the leopard-print pool table, and the clutter of kitschy decor, this place is a one-of-a-kind Chinatown staple. Whether you start your night with a $3 beer-and-shot happy hour deal, or end it here with a paper plate full of dumplings, you'll be happy you did.
EAST VILLAGE
Also known as Horseshoe Bar for the shape of the wooden bar or Vazac's after the Polish catering hall that used to be here, 7B is one of those last-remaining relics of true East Village grunge. On any given night you'll find a mix of old-time regulars and the inevitable student crowd, drinking beer and listening to metal on the juke box. If it looks familiar, that's because it's been featured in everything from Crocodile Dundeeand The Godfather Part II to Jessica Jones.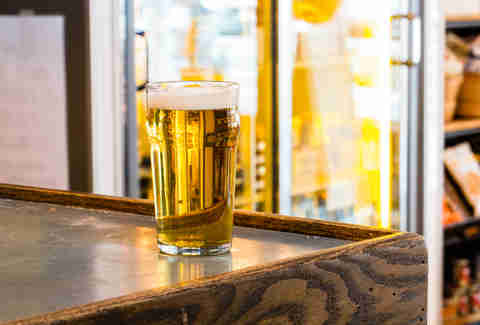 ALPHABET CITY
This beer bar/boutique beer shop is mecca for the low-key beer nerd. ABC's got a well-curated, rotating list of 12 beers on tap, and an even larger array of unique bottles and cans in its fridges — plus excellent sandwiches and cheese plates. You'll find zero pretension here — just games, comfy armchairs, and free Wi-Fi (making it a great place to "work from home").